Palestinian leadership glorifies Saddam Hussein
Most of the world is just glad that Saddam Hussein isn't around to slaughter people any more. But the Palestinian leadership is on a campaign of his glorification, raising concerns that should they ever get a state, it won't be a model of democracy
Watchdog group Palestinian Media Watch (PMW) has today reported that Fatah, the dominant faction in the Palestinian leadership, has embarked on an extraordinary campaign to glorify the former dictator of Iraq, Saddam Hussein.
Last year, Palestinian Authority President Mahmoud Abbas's spokesman Talal Dweikat described Saddam, responsible for hundreds of thousands of deaths, as a "great leader and fighter", raising renewed concerns that should the Palestinian Authority ever manage to get a state, it would be unlikely to be a model of democracy.
This week, the Palestinian Authority has been at it again, posting on its facebook page an approving picture of the Iraqi dictator warmly shaking the hand of Yasser Arafat.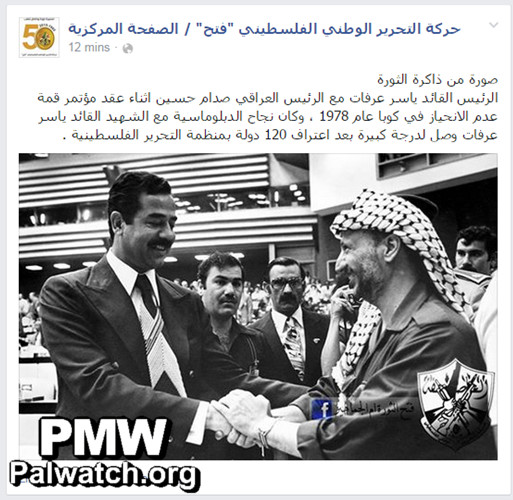 PMW noted that:
Latest on the blog
We are wholly dependent on the kindness of our readers for our continued work. We thank you in advance for any support you can offer.